Showing 1 to 9 of 9 (1 Pages)
Irish Road Signs
Have you lost direction? Why not use some of our Irish signposts as seen on Martha Stewart Living!
Dorota of TD Design makes a unique range of bilingual (Irish and English) handpainted Irish Road Signs with raised 3D letters engraved on solid wood.
Personalised Irish road signs make a fantastic engagement gift especially for a bit of county rivalry when you present the couple with their own home county or town on a lightweight wooden Irish road sign! You can even customise your orders with non Irish villages,towns or countries and we also cater for customised wooden signposts that point to anything you want! The possibilities are endless! Just send in your details and we can guarantee your gift will be treasured for ever! We cater for births,anniversaries, birthdays, weddings and retirements...a customised Irish Road Sign for all your special occasions!
Irish signposts are also ideal for offices, pubs or anywhere where creative signposting is required!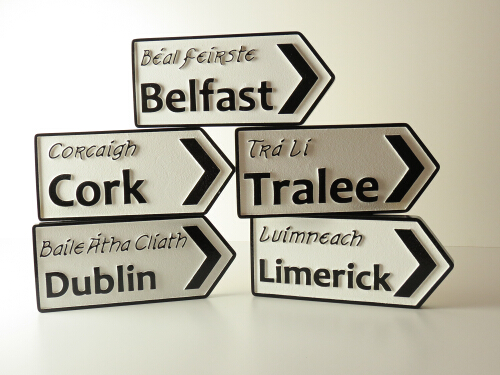 Irish Road Signs can be hung on the wall or stood on the shelf.
And best of all, all our signs come with Free Shipping Worldwide!!!
Size 26cm x 11cm x 1.8cm, you decide what you want on your sign
(Please allow up to 16 days for delivery).