Showing 1 to 10 of 10 (1 Pages)
Have you ever been fingerprinted?
Well now is your chance!
The Friends and Family Trees Collection from Maysonbrook are gifts for those who value the important things in life- family and friends!
MAYSONBROOK presents their 'Friends and Family Trees' Collection- finely crafted works of art depicting Irish native trees, to which your friends & family add their finger prints and signatures creating an irreplaceable and timeless keepsake. Designed and made by Irish Artist Bernadine, these gifts are based on studies of native Irish Oak and Ash trees
The MAYSONBROOK collection comprises so much more than generic mementos; your friends and family's interaction with each piece makes your keepsake an integral part of the event it witnesses, by creating an active element of a memory shared.A keepsake, as beautiful as it is precious, watch as your loved ones gather around and following the easy instructions, add their inked print from the high quality kit supplied to what is initially a bare tree. Lo and behold, as each fingerprint is added, the branches fill out with leaves! Add a signature against each leaf and you now have a priceless, irreplaceable and timeless keepsake. Slip your now thriving tree back into its frame and it is ready to hang on your wall- and always ready for new generations of fingerprints!
Watch a 17 second video demonstration here https://www.youtube.com/watch?v=Bgm_TlgeghA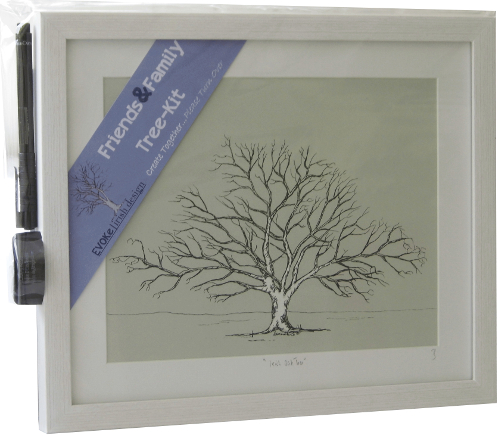 Born in Loughrea in Co. Galway, award-winning artist Bernadine holds an honours degree in Fine Art. After graduating with distinction from Galway-Mayo Institute of Technology, she continued her studies at Limerick school of Art & Design where she received her H.Dip, Honours, in Art and Design teaching. With many group and solo exhibitions to her credit, Bernadine has explored symbolism and meaning in her work reflected in this charming art and design concept entitled 'Mayson Brook-Friend & Family Trees Collection'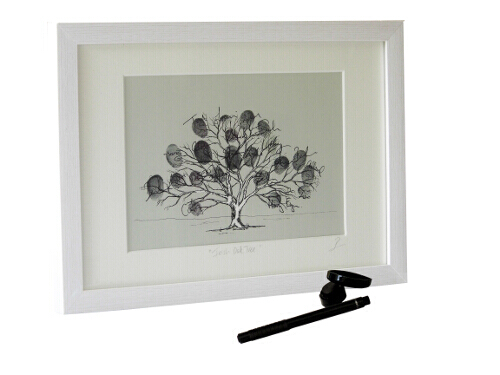 "The prints are made from original drawings and the drawings themselves are created by me. Each tree is carefully considered and selected for its beauty and strength; they take time, I like that about them, they can't be rushed and, of course, the nature of a tree means the detail can go on and on…"
TESTIMONIALS:
"Ordered at short notice and Bernadine helped me out big time. Great wedding gift and my sister really appreciated it. Would highly recommend!"
Ronan 19th June 2014
"We adore the tree and thank you sooo much for it. We got it framed and have it up to see every day."
Mary J Hynes, May 2014
"I received the tree many thanks. It's all framed now and looks lovely."
Zoe Woodward :"
"Hi Bernadine. I bought 2 of your trees as 21st gifts for twins. They were thrilled. At that age parties are all action which makes their trees all the more significant as they will have a lasting reminder of who was there with them. The trees are a timeless piece which will look equally beautiful in a young trendy pad and a family home sometime in the future. Well done on such a creative beautiful idea. Continued success!"
Aine Coleman
Thank you so much for everything. I will remember this amazing customer service in the future when I am looking for anniversary gifts. Can't find service like that in the states! :-)
Jason