What we're looking for
What we want from your product
High quality designs - traditional (great!) / with an innovative twist (even better!)
High quality designs well photographed
High quality designs not "ten a penny" or easily available through other outlets.
High quality designs handmade in Ireland
What we want from you
Irish based - we only work with makers who live in Ireland and design /make their products here in Ireland.
Designers, Craftspeople and Artists who aim to to make their living from their work and do not perceive it as a hobby.
Cottage industry is great!
We are actively seeking work from graduates.
Check if you qualify by filling out this application form
What we do for you
You promote and sell your products under the Irishmadegifts.com umbrella.
We promote you via marketing, e-commerce, logistics and administration.
We aim to target the American, Asian and UK markets and the Irish Diaspora globally.
You increase your sales in a supported environment!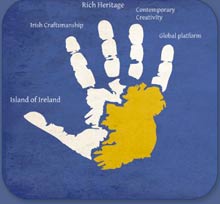 [click to enlarge]